The Best Educational Apps For 12-year-olds
12-year-olds are filled with a thirst for knowledge about the world around them, and with a little push, you can take their imagination and creativity to the next level. As they enter high school, they are introduced to a new world of learning, including vital foundational concepts in math, science, arts, and music.
According to education experts, this age is perfect for picking up and mastering new skills and building a strong foundation for learning. With the right approach, you can inculcate a lifelong love for learning in your child.
12-year-olds have keen observation skills and are quick visual and auditory learners. They absorb information from the media around them, and this young age is perfect for developing fundamental skills and setting them up for high school and college.
Given today's tech-savvy societies, many children are exposed to smart devices like mobile phones and tablets. The best way to spend time with these devices is to make use of educational apps to lay down a foundation for future curriculums and build crucial soft skills.
Whether you're a busy parent who wants to keep their children occupied or actively wants them to develop great foundations for creativity and self-expression, educational apps can be helpful.
These apps allow your kids to have fun while learning and help them hone important developmental skills. To save you the trouble, we've compiled a list of the Best Educational Apps for 12-year Olds across iOS and Android.
1. Khan Academy:
What started as a one-man YouTube channel has grown into one of the largest free online education platforms in the world. Just like its web counterpart, the Khan Academy app offers free video lessons and exercises on math, science, languages, and more.
Perfect for students from Class 1-12, this app is our top pick for your child to learn. Khan Academy has videos, exercises, and tests that are aligned with international curriculums. These help your child build a strong conceptual understanding of vital STEM concepts.
The app contains over 10,000 videos and practice exercises on math and science and has fresh content added regularly. Your child can master math through arithmetic, pre-algebra, algebra, geometry, trigonometry, statistics, calculus, and more. Science topics like biology, chemistry, and physics are also covered thoroughly.
Khan Academy has streamlined courses that are divided into easy-to-study lessons. This allows your child to learn at their own pace and build a strong foundation to do well in school. Interactive practice exercises and unit tests at the end of each lesson prepare them for exams.
With over 40,000 interactive practice exercises with instant feedback and step-by-step hints, your 12-year-old will glide through important concepts with ease. They'll also get personalized recommendations on exercises to focus on.
The app allows your kids to keep learning even when they're offline. A handy bookmark feature lets you select your favorite content for easy access and download it to keep learning even when you're not connected to the internet.
Teachers can also use the app in a classroom environment to Assign homework and practice. They can also provide content aligned with national curriculums in the form of videos, articles, and exercises across a range of subjects and grades.
Parents and teachers can also track progress and gather insights in real-time. This helps improve weak areas and makes your students more confident learners.
Khan Academy interface
The Good:  
It contains thousands of videos followed by practice exercises and regular tests 
It does not contain ads and is free to use
The Not-so-good: 
Some features are not available directly on the app and must be accessed on the website
Available on: iOS, Android
Other Educational Apps for 12-year-olds:
2. Yellow Class:
Yellow Class is an online learning app that lets your kids practice English, math, and art through live classes reinforced by fun exercises. The prime focus is given to forming good habits, better conceptual understanding, and building confidence in your 12-year-old learners.
The app follows a learn-by-practice model that lets your kids learn with bite-sized lessons and daily exercises. It also features daily concept and solution videos with live doubt-solving.
Parents can also track their child's progress through detailed reports and get insight into the difficulties faced by them. You can check exercises taken, worksheets solved, and missed exercises to help your child improve.
English topics covered include vocabulary, synonyms and antonyms, vowels, phonic sense, parts of speech, participles, and modal words. Important speech skills like fluency and debating. Writing exercises include notice and letter writing, articles, essays, and poems.
Math covers all the basics, along with angles, 3D shapes, coordinate geometry, measurements, fractions, decimals, and statistics. Algebraic equations and arithmetic problems are also introduced through video lessons and word problems.
Another way this app promotes creativity and focus is through its rich art courses. This program helps in enhancing self-expression, emotional balance, and coordination. Kids can learn to draw human faces, figures, and cartoons. Color gradation and blending techniques, along with painting and shading, are also available.
If you have more than one child, you can add all of them and manage profiles to customize what they learn. The Community Feed lets your kids share their work with the student community and feel inspired by their peers
The curriculum followed by the app has been designed by education experts to help your kids become confident speakers, creative writers, and avid readers.
With handy reminders to help schedule a study plan for your child, this app helps your children master difficult subjects through practice. This app also helps form healthy learning habits and encourages active learning, and it is a great choice for your 12-year-old.
Yellow Class interface
The Good:  
The curriculum covers all important topics and supplements school education 
Kid-safe UI which doesn't contain ads or harmful links 
The Not-so-good: 
A premium subscription is required to access certain features and exclusive videos 
Available on: iOS, Android
3. Tell:
Nothing beats a good story, and the Tell app aims to make this fun activity accessible for your entire family. Parents and kids alike can listen to a wide genre of stories, from fairytales, myths, and legends to modern classics, including Tell's own Originals, updated for today's kids.
Stories pre-loaded in the app include classic fairy tales, poems, and short stories such as The Little Red Riding Hood, Goldilocks and the Three Bears, Ugly Duckling, The Princess and the Pea, The Frog Prince, and Thumbelina.
The Tell Originals are inspired by classic stories and re-interpreted to reflect our changing world. The app contains hundreds of rewritten recorded stories for families to enjoy, updating them for today's generation of kids while preserving their timeless charm.
This is a family-friendly app where you can safely share your stories with family members, friends, and children. You can also choose between private or public profile settings for everyone to enjoy!
What's more, this app allows you to record and tell your own stories! Your kids can add their own voice to classic tales such as Beauty and The Beast and Alice in Wonderland or record and share their own custom stories. These personal tales can be further customized with imagery such as family photographs or pictures from your gallery.
Simply choose a story and read the text into the app. Your voice is recorded in small chapters, ensuring a simple slip of the tongue doesn't undo a few minutes of perfect diction.
Tell makes it fun to share your stories, whether that's private with family and friends or publicly with other storytellers. This means you can join a thriving community of storytellers, and there are always more stories and amazing narrators to discover. If you find a great one, you can also like, comment, bookmark, and re-share the story.
The real charm of this app is in narrating your own stories, making everyone a storyteller! You can think of it as a place to record your own audiobooks. Parents can also use it to preserve family heritage and create lasting memories.
If you're away from home or living apart from your children or grandchildren, Tell ensures they don't miss out on a bedtime story. So to all the imaginative thinkers, definitely give this app a try.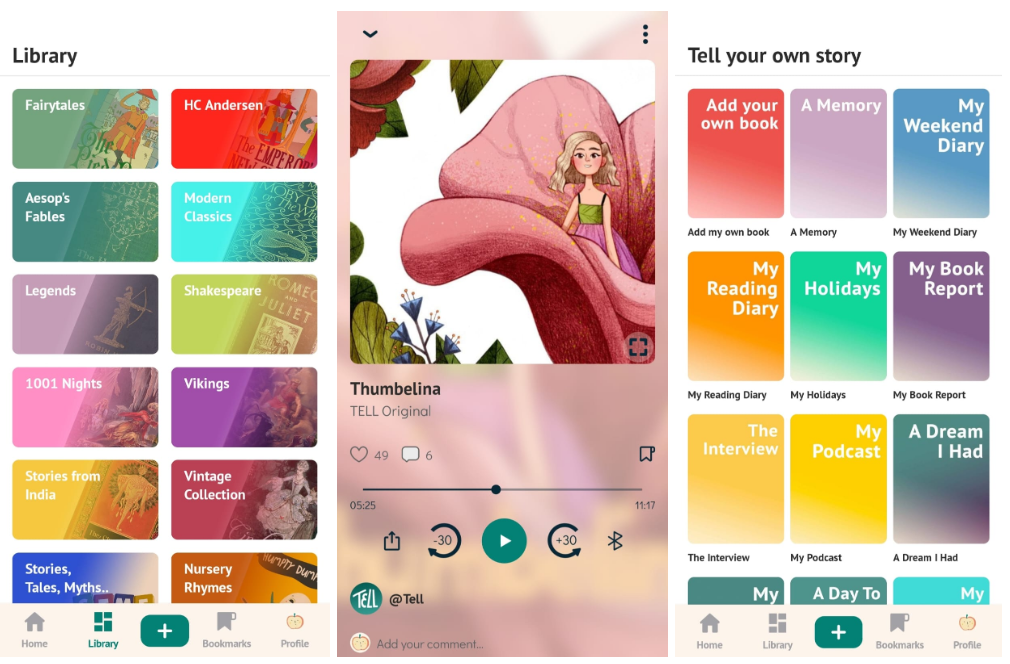 Tell interface
The Good:  
A kid-safe environment with no ads or third-party links
Record stories with ease and create your own stories, audiobooks, or podcasts
The Not-so-good: 
Many useful features can only be accessed with a premium subscription 
Available on: iOS, Android
4. 7th Grade Games:
7th Grade Games provides more than a year's worth of math lessons, worksheets, and problems for sixth, seventh, and eighth graders. Covering 19 common core subjects with fun questions, this is perfect for teachers or parents who want to give their students a new way to practice and learn.
Topics covered in math include ratios and proportions, percent problems, rational numbers, expressions and equations, inequalities, and geometry concepts like area, volume, and angles. Other important topics like statistics and probability are also covered.
Teachers and academicians around the world use this app with their students to help reinforce math, language, and science subjects. The app is also kid-safe, with no ads or third-party links. 
You can track your student's progress with detailed reports and multiple profiles on a single device. Your children want to keep playing as they earn tokens every time they solve questions. They can then spend these tokens in the arcade.
This free version allows for up to 20 questions per day, one arcade game, and a free profile. Get the full version through a simple in-app purchase to unlock the entire game.
If you're looking for an app to help hone important concepts for your child, this app will help you cover all the basics and build strong foundations for higher studies. This is the perfect app for 12-year-old kids and students who need an entertaining and educational game to play and learn from.
7th Grade Games interface
The Good:  
Covers curriculum-based concepts across subjects at the seventh-grade level
The app has a kid-friendly design and does not contain any ads
The Not-so-good: 
To unlock all lessons, payment must be made
The free trial is very limited
Available on: iOS, Android
5. Math Zap:
Math Zap helps students enjoy learning mathematics in an engaging and exciting manner. Designed by expert professors based on years of classroom teaching experience, this app is a great supplement to grade 6 and 7 math.
This expertise, coupled with modern learning techniques, helps your children learn faster, more effectively, and with more confidence. MathZap provides young learners with 56 skill-building exercises, 300 concept videos, and more than 4000 practice problems. Each chapter also includes multiple tests.
12-year-olds learn important math concepts in grades 6 and 7 that will be critical to their success in subsequent classes. Learning math from these classes can be boring or challenging for the average student, and thus MathZap makes use of Skill Builders.
Each Skill Builder has concept videos followed by example videos and then a set of practice questions. Students can choose the topic they need and start learning. A detailed step-by-step solution is given for all the practice questions, which gives them a thorough understanding of concepts.
Whether your child is working on whole numbers, fractions and decimals, or geometry, MathZap's curriculum gives them a full range of learning tools to help them master topics and feel more confident in their abilities.
Important topics covered include numbers, basic geometry, shapes, integers, fractions, decimals, mensuration, algebra, ratios, and proportions. And as your child progresses through different concepts, they can earn stars, badges, and even certificates. This keeps them motivated and hungry for more learning.
Parents can also monitor their child's progress and see detailed reports to review concepts and help them eliminate weak points in their understanding. Not only this, but the app is also ad-free and kid-friendly in its design interface.
If you're looking for a math app that makes learning mathematics fun by presenting concepts in a fresh way, give MathZap a try.
6. Reading IQ:
ReadingIQ is a comprehensive digital learning library app for kids aged 2 to 12, and it is perfect for your 12-year-old to read and learn. This app is designed by early education experts to align perfectly with your child's reading ability and grade level. 
This app gives your child access unlimited access to thousands of?leveled books for learning and follows widely adopted leveling standards for preschool through 6th grade. The entire collection has been expertly curated by teachers and librarians, with content across all genres.
The ReadingIQ app features thousands of books, including award-winning titles and childhood classics from popular publishers, as well as the entire ABCmouse library. This ensures everyone finds something they enjoy reading and can learn at their own pace.
ReadingIQ's unique features intelligently organize various book titles to make it easy for your child to find the perfect book to match their interests. They can choose from picture books, graphic novels, popular series, chapter books, and nonfiction titles on every academic subject! 
ReadingIQ is like an anywhere, anytime personal learning library that helps your child grow as a reader. In fact, according to research, reading just ten pages per day can help in increasing your child's reading proficiency by up to 10%.
You can also find exclusive ABCmouse titles on this app. The reading level lets you find age-appropriate books that your children will love to read and learn from. It aligns with the school curriculum and is great for homeschooling as well.
Lastly, the app also has engaging comprehension quizzes to help measure and test your child's reading skills from time to time. If you're looking to learn different languages, the app also contains hundreds of books in Spanish for all reading levels.
The app gives parents detailed stats and allows for easy tracking and monitoring of their child's progress. The UI is clean and simple, and the app provides a 100% safe and kid-friendly environment for your child to explore.
ReadingIQ interface
The Good:  
A kid-safe environment with no ads or third-party links
Book titles are available for all reading levels and different languages too
The Not-so-good: 
Requires a premium subscription after the free 30-day trial is over
Available on: iOS, Android
7. Class Dojo:
ClassDojo is a simple yet powerful communication app for teachers, parents, and students. This app lets you create an amazing classroom community to boost interactions and make communication a breeze.
Parents and teachers can encourage students for any skill, be it maths, science, or even chores. Teamwork and hard work can be encouraged with the use of the app.
Teachers can also bring parents into the classroom experience by sharing photos, videos, and announcements with ease. All the information can be seamlessly communicated to all parties once the app is downloaded and set up for classroom use.
Students can add their classwork easily to their digital portfolios for their parents to see. This helps with accountability and promotes discipline and academic rigor. Teachers can also safely and instantly message any parent directly via the app.
Parents see their child's updates at home, as well as a stream of photos and videos from school. Useful teacher tools like Group Maker and Noise Meter can be accessed on the app and help with increasing classroom productivity.
ClassDojo is free for everyone to use, and K-12 teachers, parents, students, and school leaders can download and sign up without payment. It also works on all devices, like tablets, phones, computers, and smartboards.
ClassDojo helps teachers build a positive classroom culture by encouraging students and communicating with parents. If you're looking for a simple and safe classroom monitoring app for improving the educational experience, give this one a try.
ClassDojo interface
The Good:  
Free to use with a simple and elegant interface 
It contains detailed reports and classroom insights 
The Not-so-good: 
It contains in-app purchases and requires a monthly subscription for certain features
Available on: iOS, Android
8. Anton:
Anton is a learning app that covers Maths, English, Science, and Music for kids in grades 1 to 6 and is our top pick for your 12-year-old. It follows a curriculum-based approach to teach your kids key primary school concepts.
The app is free to use and does not contain any ads. All of their learning content is completely free to access for all users without any extra costs.
The app contains over 50,000 exercises and fun games for kids to learn from. This includes 200 Montessori exercise types, from telling time to science and music. It also contains detailed explanations and educational games for your kids.
This app is used by teachers and educators across the world and can be easily integrated into classrooms. With the app, teachers can create class groups, assign homework and follow their student's learning progress both in the classroom and while homeschooling.
Anton makes it easy to learn anytime, anywhere. With just one account for all devices, this app is perfect to use in the classroom or as your all-in-one homeschool. The games also motivate young learners by rewarding them with coins as they learn through playing fun games.
Anton helps your kids learn reading with a phonics-based program. These exercises let them master reading, sight words, and counting syllables. The maths covers ordering, skip-counting, addition and subtraction, math games, multiplication, telling time, word problems, and much more. 
The game also has great customizability and lets parents and kids create a perfect learning program for every child. Young learners 
can also create and customize their own avatars and upgrade them with coins earned through learning.
The best part is that the app is suitable for kids with dyslexia and also has many math games to address dyscalculia. So if you want your kid to learn and grow, add this app to your download list!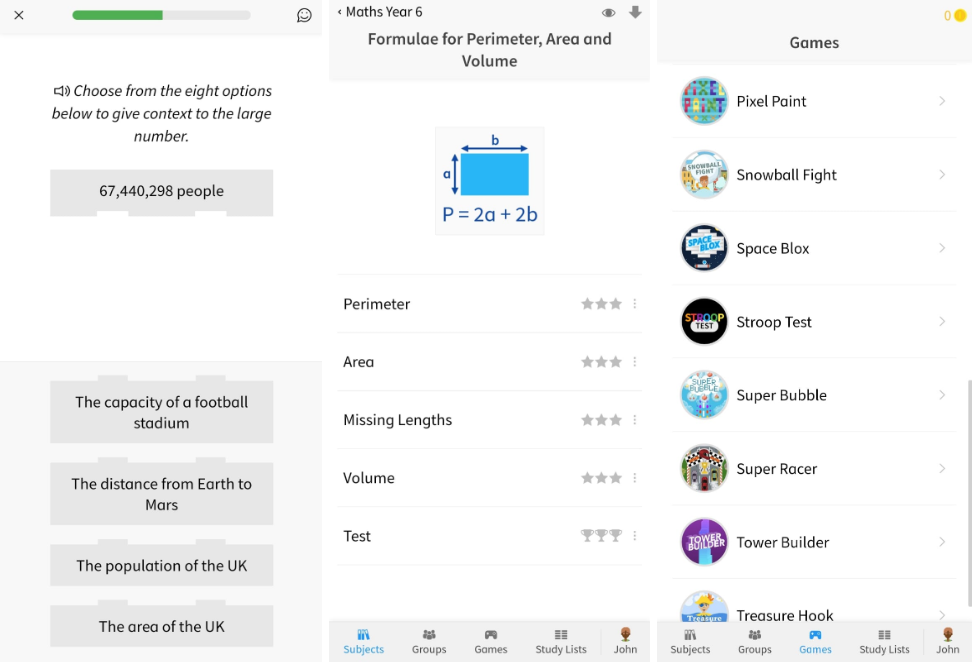 Anton interface
The Good:  
Curriculum-based learning that follows national standards and covers most subjects
Kid-friendly UI with no ads or in-app purchases, and completely free to use
The Not-so-good: 
Requires a premium subscription after the free 30-day trial is over
Available on: iOS, Android
9. LightBot:
Lightbot is a coding app that uses fun logic puzzles to teach young kids coding principles. It features playful characters that hop around the screen to light up tiles.
Lightbot: Code Hour is the free version that lets you play through 20 free levels that teach kids basic concepts like procedures and looping. The follow-up app is called Lightbot: Programming Puzzles and features 50 levels with 20 challenge stars to collect.
Kids control a cartoon robot called Lighbot through different puzzles. They can add commands to control its movement and then 'run' the program to execute actions. This mimics real coding and explains complex concepts in a visually appealing manner. 
Lightbot also has two other paid apps, Programming Puzzles and Jr. Coding Puzzles. The Jr. version is useful for younger kids to build a coding foundation, whereas Programming Puzzles has harder challenges that are perfect for pre-teens and teens.
The app also features multiple save slots and separate progress tracking for different players on a single device. Multiple players can advance at their own pace in their own save slot and also compete based on the number of levels finished and the number of stars collected.
The app does not contain any ads or in-app purchases and can be safely used by kids.  The best part is that the difficulty increases as you progress through the levels, and it can be challenging for adults too. This is a fun game that is sure to challenge even the brightest young minds.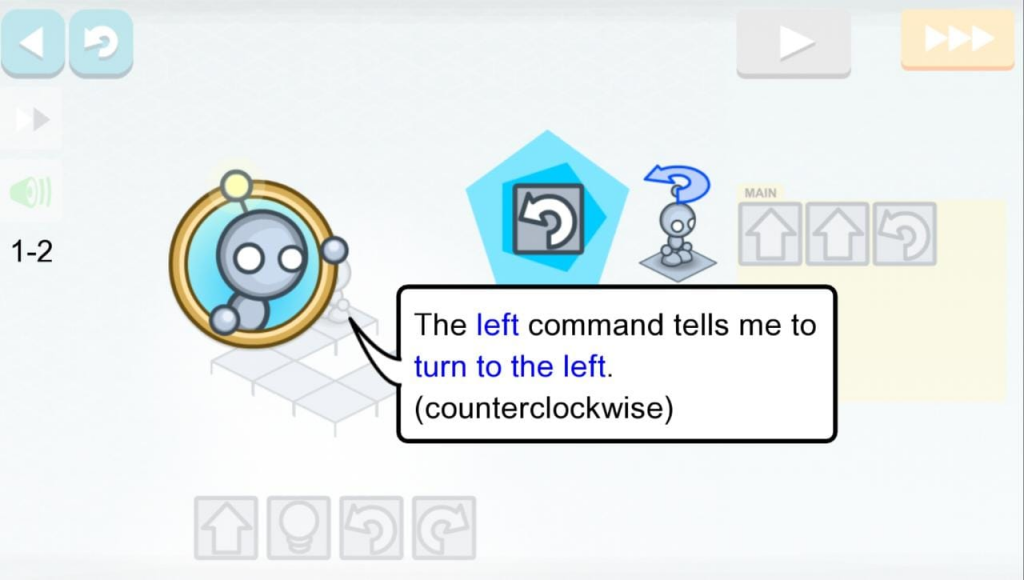 LightBot interface
The Good:
Coding puzzles feel like playing a game
Available in 28 different languages
The Not-so-good: 
It can get quite challenging, even for adults
The free version is limited and requires payment for full access
Available on: iOS, Android
10. Kahoot:
Kahoot lets teachers, educators, and parents create and play learning games at school or home. With this app, your kids can enjoy playing engaging quiz-based games called "Kahoots". You can also create your own kahoots and learn something new.
Kahoot brings a fun new way of learning for students, teachers, trivia fans, and lifelong learners. The app is also accessible to a global audience and is available in English, Spanish, French, German, Italian, Brazilian Portuguese, and Norwegian.
Students can join Kahoots hosted live, in class, or virtually, and use the app to submit their answers. They can also complete self-paced challenges to cover any concept they like over a variety of academic subjects. They can also study at home or on the go with flashcards and other study modes.
Other features let them compete with friends in study leagues,  challenge their friends with their own kahoots, or host live with friends and family from their mobile device. All Kahoots are fully customizable, and you can add images, videos, and text.
Don't want to go through the trouble of making your own quiz? Don't worry, as the app lets you find a Kahoot on any topic fit for any age. All of these quizzes can also be broadcasted live onto the big screen.
Kahoot is an especially valuable tool for teachers and educators. They can use it to create a custom quiz in minutes or search for one from among millions of ready-to-play kahoots on any topic.
These versatile quizzes can be hosted life in class or virtually for distance learning.
Audience participation can be done with polls and word cloud questions. The app also provides tools to assign student-paced challenges for content review and allows for assessing learning outcomes with detailed reports. 
Kahoot is free for teachers and their students, but the app offers optional upgrades that unlock advanced features. such as an image library with millions of images and advanced question types. such as puzzles, polls, open-ended questions, and slides. 
If you're a parent or teacher who wants to make learning a fun and interactive activity, look no further. Kahoot is perfect for you and your kids to learn and grow.
Kahoot interface
The Good:
Free to use for students and classrooms 
Gives a report at the end of each quiz 
The Not-so-good: 
The free version has limited features
Available on: iOS, Android