The Best Rock Identification Apps
Ever find a shiny rock you don't know the name of but would love to? You might come across interesting stones, or fancy gems on your nature strolls. But even Google might not know what mineral you're looking at. Don't fret; we're here to help!
Whether you're a geologist or just a nature enthusiast, it is always handy to have a Rock identification app on your phone. From iOS to Android, ranging from free-to-use to paid apps, here's our list of the Best Rock Identification Apps!
The Best Rock ID App
Rock Identifier: Stone ID definitely tops our list as the Best Rock Identification App. With a clean and interactive user interface, it provides a fast and accurate way to ID rocks, gems, crystals, and many other minerals.
This Rock ID App describes itself as the "Mineral Encyclopedia." Users can simply take an image or upload one from their gallery to use the app. If the app finds a copy in its database, it shows all the possible matches.
This app contains a large database of over 6000+ rocks, gemstones, and minerals. Once you find your match, you can read all about your rock. This includes physical and chemical properties and helps you classify and learn more about your specimen.
Another cool feature is the ability to create "Collections." This app allows you to organize all your geologic finds in one place. Think of it like your own personal Rock museum! You can note the location, date, and other interesting rock features for each stone in your collection.
The app also provides email support for one-on-one inquiry help. This means you can get all your rock-related doubts solved by a Geologist!
The premium version of this app allows you unlimited scans with no ads and access to more geologic information.
With a beautifully designed UI that is easy to use and offers fast identification, this app is our top pick for you.
The Good:
Elegant UI design
Fast and accurate results
One-on-one Email support for professional help
The Not-so-good:
Requires premium to unlock full potential
Limited scans for free users
Available on: iOS, Android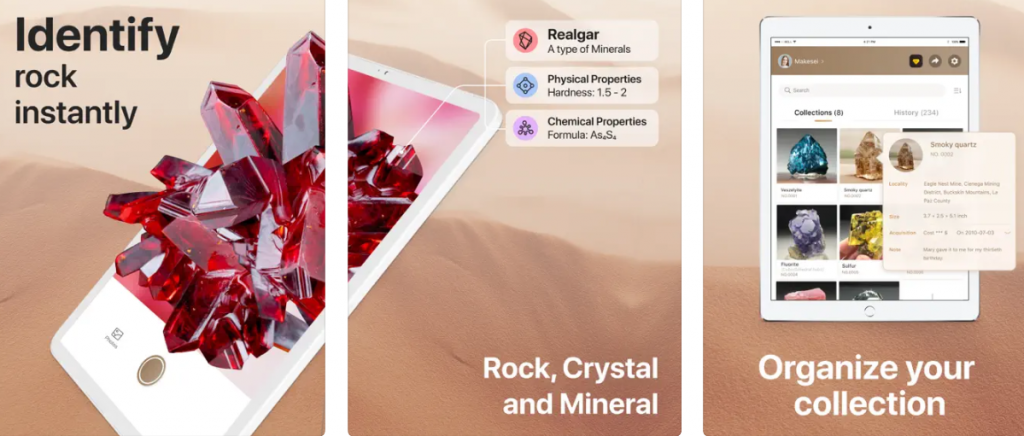 Rock Identifier: Stone ID interface
Other great Rock ID Apps you should check out:
Rock Identifier Stone Scanner is a versatile Rock Identification app. Users can either upload or click an image or browse an extensive library of rocks and gemstones.
The auto-detection feature works quite well and produces a list of possible matches within seconds. The app also asks users if the match looks right and uses this data to better its results.
Once you find your stone, you can read a brief description of its features. These include color, luster, chemical formula, and other scientific classifications.
The app also provides a handy Wiki link to the pertinent webpage of your mineral. Another great feature of this app is the Collections. You can create a personal folder with all your rocks and save them for viewing later. 
The interface is simple and intuitive and thus makes the app beginner friendly. Our only complaint with this app is the annoying video ads that free users must endure to perform a scan.
The premium version includes complete access to the Rock library and unlimited scans.
The Good:
Large database of gemstones, rocks, and minerals in the Library
Fast and mostly accurate results
The Not-so-good:
Annoying video ads
Pushes users to buy premium for unlimited scans
Available on: Android
Rock Identifier Stone Scanner UI
Gemius has a very well-designed interface that can be enjoyed by hobbyists and geologists alike.
To use it, simply install and open it, and the app gives you a brief tutorial to take the perfect shot. It lets you click a photo from your camera or upload one from your gallery. 
One unique feature of this app is that it lets you take the perfect shot by customizing the photo within the app itself. You can adjust the lighting and zoom in with the built-in camera to ensure a clear image. 
It also advises users to keep the stone or gem on a flat and plain surface to ensure better detection. 
Gemius uses auto-detection by scanning and comparing your rock against an extensive database of gemstones, crystals, and other geologic minerals. Once it finds a match, Gemius provides you with a list of matches for your rock specimen.
Along with a brief description of the rock, Gemius also gives users a lot of other relevant information. This includes colors, crystal systems, density, and formula. 
This app is a very useful tool for geologists and gemologists as it lists essential physical features. These include luster, hardness, diaphaneity, fracture point, and other critical scientific criteria.
Another great feature of this Rock ID app is the ability to create "Collections." After scanning a rock, you can add it to your personal collection and create your very own rock database!
So whether you're just a layperson who wants to identify an interesting rock or someone with more experience in the field, Gemius is the perfect app for you.
The Good:
Beginner-friendly user interface
Fast results (find a match within seconds)
Create collections
The Not-so-good:
Requires a premium subscription for unlimited scans
Currently not available on iOS
Available on: Android
Gemius home screen; Scanning UI; Info screen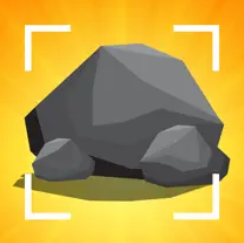 Rock Identifier Stone Finder is an iOS-exclusive app available for both iPad and iPhone. The app allows users to snap a picture and find a match. You can also upload your rock from your gallery.
The app has extensive resources to read and learn about different types of minerals and gemstones. After scanning, you can scroll through and read all about your mineral.
You can read about the color, composition, chemical properties, and even the price of your stones.
The collection feature on this app is very useful. It allows users to create their own collections with pictures, location details, etc. This feature is great for documenting and recording all your geologic exploits.
The premium version of this app:
The Good:
Rich collection feature that is highly customizable
Fast identification time
The Not-so-good:
The premium version is expensive
Designed for iPads and is not available on Android.
Available on: iOS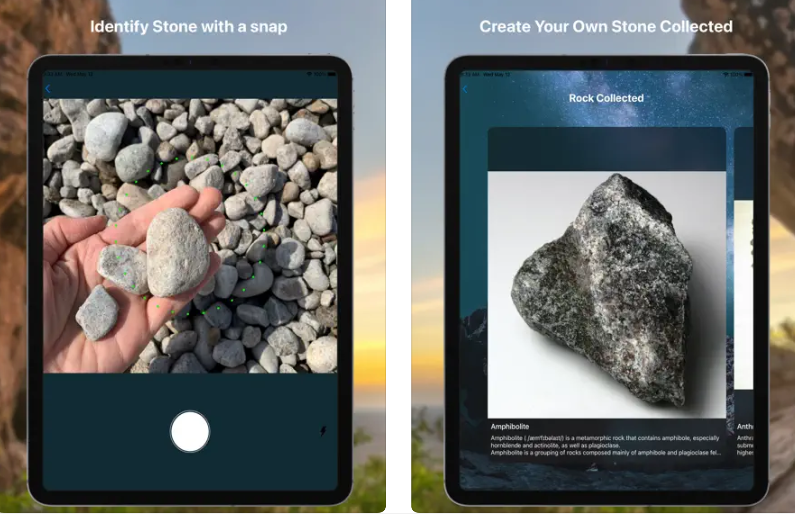 Rock Identifier Stone Finder Interface
Geology Toolkit is by far the most scientifically accurate and resource-rich app. It is available both free to use and premium. The free app is also called the Lite version.
Both versions include an extensive database of rocks, gemstones, crystals, and minerals. The interface is intuitive and has a premium feel.
Although rock identification is not its main feature, users can find accurate matches by uploading or snapping images. The Lite version includes support for Mineralogy and Petrology. This includes 117 minerals and 87 petrologic rocks.
But the true power of this app is realized in the Premium version. Geology Toolkit Premium is a great learning resource for students and experts alike.
Mineralogy, Petrology, Paleontology, Crystallography, and Gemology are some of the disciplines this app caters to. Professionals in all these disciplines can find detailed guides, quizzes, and expert answers to geologic questions.
For each discipline, there are dedicated resources and handbooks with thousands of specimens, diagrams, and tables of rocks. The Premium version also features an impressive Geology Dictionary with over 10,000 terms related to the field.
Best of all, this app is updated monthly, adding to its rich features and fixing bugs actively.
The Good:
Very descriptive and information-dense
Useful for experts in all geology fields
Continuously updated with new features
The Not-so-good:
Not available for iOS
Premium is needed to unlock full potential
Detailed information may be daunting for beginners
Available on: Android
Geology Toolkit Interface
RockCheck has a unique way to identify your geologic specimen; you simply answer a list of Yes/No questions!
This freely accessible app has three main sections on the homepage- The Rock Key, the Encyclopedia, and the School of Rock.
The Rock Key is what we'll be looking at in detail since it is this app's primary Rock ID feature. Once you hold the rock in your hand, you can begin answering several scientific questions based on your observations. The app narrows down the possible matches by using this information. And believe us, it's surprisingly accurate!
Once you find a match, you can head over to the Encyclopedia or School of Rock to read and learn more about it. These features are more educational and provide brief descriptions of the rocks. You can use them to learn about their appearance, formation, and usage.
Overall, RockCheck is an excellent app with adequate Rock ID features that both beginners and pros can use.
The Good:
Simple and intuitive
Great for students to learn geologic concepts
Completely free to use with no ads
The Not-so-good:
It does not support gem and crystal identification
Not as robust as other auto-ID apps
Not available on iOS
Available on: Android
RockCheck home screen; ID screen; Encyclopedia
Other Useful Rock and Mineral Guides (Without ID):
And that concludes our list of the best Rock ID apps. But wait, that's not all!
While Rock Identification may not be available in the following apps, they certainly are powerful tools that can prove to be infinitely valuable for geologists and hobbyists alike. Be sure to check these out as educational references for geology resources:
Rockd is a fun way to explore the geologic formations in your locale. By giving the app your location, you can explore a geologic summary of the rock formations around you.
You can even view detailed maps of places you've visited to study the different types of layers and rocks that form the environment around you. Then there's the database, a large collection of minerals and rocks of all types for you to read about.
This app encourages users to explore their local terrain and ID rocks by learning about them in detail. It's a fun way to spend an afternoon or when going hiking! Moreover, you can save all your geologic exploits and maintain an e-journal for all your minerals.
The Good:
Great way to ID by comparing and learning about rocks
Robust geologic resources and info-guides
Free to use
The Not-so-good:
Doesn't have a dedicated Rock ID
Available on: iOS, Android
Rockd home screen; Mineral Guide; Local Terrain Map
If you're looking for a handy reference app for mineralogy, this one's for you. This app makes up for its lackluster UI with an expansive database of over 4000 definitions of mineral terms!
From Abellaite to Zorite, this app quite literally has the A-to-Z of mineralogy. Along with useful illustrations and images of the minerals, this app features offline functioning. So once you download it, you can use it anywhere even without an internet connection.
For ease of use, the app features an autocomplete search function along with voice search capabilities. This makes it the perfect pocket dictionary to look up rocks on the go!
The Good:
Dynamic search feature with autocomplete
Expansive database; find most minerals, gemstones and crystals
Available for offline use
The Not-so-good:
Does not feature auto-ID
Annoying video ads in free version
Not available for iOS
Available on: Android
Minerals Guide UI