The Best Plant Identification Apps
Whether you're a budding gardener or just exploring the woods, it is always handy to have a Plant Identification app on your phone. 
You may encounter an unidentifiable plant, be it a flower or an herb. Want to know what it is but can't seem to find it on the net?
That's where we come in! iOS or Android, free-to-use or premium; we've got you covered. For dendrologists and green thumbs alike, here's our list of the Best Plant ID Apps!
The Best Plant ID App
Our top pick for this list is LeafSnap, which takes the crown as the best Plant ID app. With a sleek user interface and fast identification time, this app is both intuitive and user-friendly.
LeafSnap probably has the best UI on this list. Neatly designed and easy to use, it is an excellent app for identifying unknown plants.
After clicking a photo or uploading one from your gallery, you get a detailed overview of the possible matches within seconds. The app uses a high-accuracy self-learning AI that looks through its database to find a match. Scientific information regarding the plant and reading resources appear once a match is found.
The app also shows you details about plant care, such as water, light, soil, temperature, and humidity.
It also has a neat feature that allows you to share your plant across social media through a lovely visual template.
Another excellent feature is the "Tasks" tab which allows you to schedule reminders for plant care.
From succulents to shrooms, this app can help your inner Botanist find the answers to all your plant-related questions.
The Good
Very clean interface with intuitive search bars. Available in 20+ languages.
Provides plant care tips and reminders.
Journal/Log to document all your searches.
The Not-so-good
Annoying video ads on the free version.
Many features are premium-exclusive.
Available On: iOs, Android
Other great plant ID Apps you should check out:
"Where nature and technology live in harmony"- These are the words that accompany the loading screen when you open PlantSnap.
And it is true! PlantSnap is a powerful plant ID tool that uses an extensive database of 585,000+ plant species. Once you click a photo or upload one from your gallery, the app scans it automatically and uses AI technology to find a match (or multiple matches in some cases).

The accuracy and speed of this app are impressive. Though not foolproof, the extensive database loads a result within seconds. Along with a description, the app also gives the taxonomical classification of your plant.
And that's not all! You can also read tips on growing, watering, and caring for your particular plant!
The app also has a handy function that stores the location and time you shot the images. This allows you to create a personalized catalog of your flower and plant discoveries.
With its beginner-friendly design, the app gives new users a tutorial on how to use the Plant ID feature. 
Another great feature is the ability to interact with fellow green thumbs and create garden groups. Think of this almost as a Facebook-for-plants, where you can post questions and receive answers. You can also post pictures of your plants that can be viewed, liked, and shared by the community.
The Good:
Easy to use with instructions and a tutorial.
Suitable for both beginners and advanced plant enthusiasts.
Available in more than 30 different languages.
The Not-so-good:
Sometimes gives multiple matches.
Has frequent ads and pop-ups in the free version.
The free version only allows up to 10 daily plant identifications.
Available on: iOs, Android
Be it garden plants, trees, cacti, or mushrooms, PlantNet has you covered. This Plant ID App uses a unique geolocation feature that allows users to search for flora in their local ecosystems.
It has a robust user interface and allows users to snap a picture or upload one from their gallery. Once you obtain your image, it asks you to identify the related organ to help narrow down the search. You can choose leaves, flowers, fruits, barks, or habitats to help the App find the best match.
The app also shows you similar images to your plant so you can confirm your find.
PlantNet describes itself as a biodiversity project that is powered by the masses. You can search for different thematic and geographic flora as you wish. This makes the app a valuable educational tool that is used by researchers and scientists as well.
Whenever you upload a picture, you help scientists worldwide. Your images become part of the PlantNet database and get analyzed by scientists. This helps them better understand local biodiversity and find ways to protect endangered plant species.
The Good:
Available in multiple languages.
Search-by-region option for accurate identification.
Abundance of scientific information and access to niche plant communities online
The Not-so-good:
Detailed botanical jargon may be intimidating for beginners.
The user interface is slightly counterintuitive for the uninitiated.
You need to sign in (free) for full features and functionality.
Occasional bugs while uploading multiple images.
Available on: iOs, Android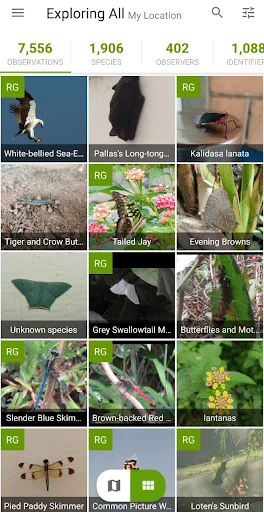 This app is the result of a collaborative effort between the California Academy of Sciences and the National Geographic Society.
iNaturalist allows you to connect with a community of more than 400,000 scientists and naturalists worldwide. The Plant ID feature on this app works through community verifications and image recognition software.
Users can upload their "Observations" to the database, almost like a botanical journal log. Other users and naturalists can share and confirm observations, which grows the research database.
This app also includes a detailed database of pre-existing observations by other users. You can scroll through these and find plants, animals, insects, and more.
Using their community feature, you can also view sightings and nature projects near your locale!
The Good:
Makes exploration fun and gamifies community nature projects.
Free to use with no ads (Requires free registration with email).
Large database of plants and animals with abundant photos and information
The Not-so-good:
Identification time is often slow and can take hours to be verified manually by other users.
Other users can view the location for observations, which poses a privacy risk.
Available on: iOs, Android
GardenAnswers compensates for its slightly dated UI by allowing you to connect with horticulture specialists!
After completing a free email registration, you can start posting automatically identified images. The app also allows you to refine your search by selecting specific plant categories. You can read about the identified plant and get links to buy it.
But GardenAnswers' most helpful feature is that it allows you to ask experts. Once your email is verified, you can chat with horticulturists and ask them any questions. You can engage in a one-on-one discussion with an expert. This app helps you get all your plant-related queries answered.
You may want to participate in a community discussion; this app has that too! The community features allow you to take part in discussions and send and receive feedback from other gardening enthusiasts.
The Good:
Ability to chat with expert horticulturists.
Community discussion forum to get tips on garden care and more.
The Not-so-good:
Dated user interface.
Ads on the free version.
Requires email verification (free) to start using the app fully.
Available on: iOS, Android
It's clear why this app calls itself "Your Pocket Botanist." Although a Premium app, you can try a free 7-day trial to see if the app is right for you.
PictureThis is a robust PlantID app that uses powerful AI to identify your plant. You can find a match within seconds and read about the plant in question in detail by clicking or uploading an image.
Unlike other apps, PictureThis also tells you various things about your plant, like toxicity to pets, plant pests, and diseases. Along with this, the app also gives treatment recommendations to heal your sick plants.
The Good:
Pet Toxicity information for every plant.
Plant care guides and reminders.
Diagnose and treat plant diseases.
The Not-so-good:
Paid app after 7-day free trial.
Some issues with image uploading and collections.
Available on: iOS, Android
People in a hurry can use this app to identify the flora around them fast and accurately.
This software is great at identifying outdoor flora like trees, shrubs, cacti, flowers, and fruits. The app's design is relatively straightforward, allowing you to upload an image and receive a result quickly.
By using auto image recognition software, this app spits out a few different options for you. You can compare and choose the one that best matches your plant.
To get unlimited searches, you need to buy the app's premium version.
The Good:
Simple to use and accurate.
Fast plant identification.
The Not-so-good:
Needs a premium subscription for unlimited searches.
Surface level information.
iOS exclusive.
Available on: iOs
Blossom is both a plant identification app as well as a diagnostic app to identify diseases and treat your plants. This app is premium with a 3-day free trial.
With an elegant design and simple-to-use features, this is an excellent app for gardening enthusiasts. Once you get a match on your plant photo, you can see various plant care criteria. These include ideal sunlight, water, soil pH, as well as a gallery of photos.
Another neat little feature is that you can add your searched plants into a virtual garden. Using these virtual gardens, you can keep track of all your plants and schedule tasks and reminders for them.
This app has a robust Care Reminder system that makes a detailed daily routine for your plants. If any diseases are identified, you can start tracking medicines and finding optimal treatment methods.
The most unique feature we found in this app was the light meter. It uses your camera to gauge light intensity levels and tells you the best lumen range for optimal growth. How enlightening!
Finally, the app includes a blog-type section with the latest gardening and plant care articles.
The Good:
Beautiful design and animations.
Plant care guides, reminders, and related articles.
Diagnose and treat plant disease.
The Not-so-good:
Paid app after 3-day free trial.
Plant identification is a secondary feature.
Available on: iOs, Android
Open the image using Google Photos; Click on 'Lens' to ID your plant
Yep, you read that right! You might be surprised to learn that you might not need any third-party app at all. Powered by Google's powerful reverse-image search capabilities, Google Lens can scan your image and find matches from across the web.
To use this feature for Plant Identification, simply click a picture and open it using Google Photos. On the bottom panel, you'll see a button called "Lens." And voila, you're done! Google Lens will scour through thousands of web pages and find the most accurate visual matches.
You can even find Wikipedia links, shopping links, and an abundance of other information regarding your plant.
If you're in a hurry and need a quick check to find a plant, Google Lens does the job!
The Good:
No need to install 3rd party applications.
Inbuilt in Google photos.
Fast search times; usually a few seconds.
The Not-so-good:
Not always accurate
Uses Google Photos, which is not on iOS devices by default.
Gives a lot of data which can be overwhelming.
Available on: Android (inbuilt via Google Photos), iOS