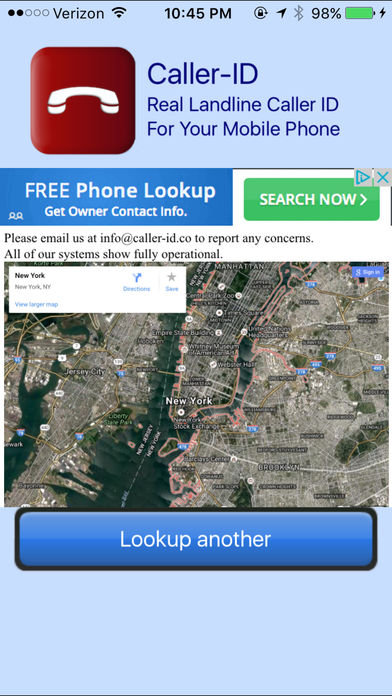 The Caller-ID app by Caller-ID.co is the internet's first free and real Caller ID service. If somebody called you and you're trying to find out who owns the number, use our app to quickly do a "reverse lookup" and determine who called you.
Now with Maps and improved Geolocation!
Most (if not all) cellular phone carriers do not offer the full caller ID service that exists for landline phones. When someone calls a mobile phone, the cell phone caller ID leaves out the name, only showing the phone number and/or city of the caller. Real landline caller ID shows the number & name of the caller. Finally, a free & real landline caller ID utility exists for the iPhone.
Simply enter the number that called you, and we provide the name ("caller identification") registered to the phone number. Our service works for the entire United States and Canada, and we are adding more countries soon. Our caller identification is accurate information directly received from our telephone company partner. It is the same caller ID you would receive on a landline phone. Note: This App provides Caller ID for approximately 70% of wireless phones and VOIP phones. This is consistent with any other traditional landline caller ID system.
This tool may only be used to research phone numbers that called you. Map areas are approximate.